Dr. David C. Walden, D.D.S.
Dentist
On the occasion of Dr. Walden's 25th anniversary of dental practice in Ellettsville, he, his wife Marie, and his family would like to thank his patients and community for all of their support, especially during his son, Kit's recovery period. Dr. Walden is also now a certified member of the American Laser Dentist Society (ALDS), the American Orthodontic Society, and is pleased to announce the addition of digital radiography—one of the newest and sophisticated dental technologies—to his office in April 2008. Dr. Walden will be attending the ALDS convention this April in San Diego and learning the newest techniques and technological advances that the laser dental industry has to offer. Dr. Walden also attended the National American Dental Association conference in San Francisco in October 2007 where he learned the latest techniques in laminates and cosmetic dentistry. Dr. Walden and Marie both feel an obligation to give back to the local community. The two are proud to be involved with the Monroe Country Foundation and Dollars for Scholars (a society that helps local students achieve the funds necessary for college). In addition, the Traumatic Brain Injury Society holds a special place in their hearts, and Dr. Walden has joined the in charge of creating a new Recreational Access Park currently under construction at Karst Farms Park. Dr. Walden is also involved in the new Traumatic Brain Injury state committee funded by the State legislature since 2007. The committee's goals are to distribute funds, help hospitals establish better methods and treatment s to heal those with traumatic brain and spinal cord injuries, and to create state clinics to improve the lives of those who suffer from these debilitating injuries.
Rachel Lynn Hardesty
Dental Hygienist
Rachel is a Licensed Dental Hygienist. She has worked here for the past 14 years. Rachel lives in Worthington with her husband, Chris, their son, Questyn and daughter, Adilynn. She is very involved with her church and family.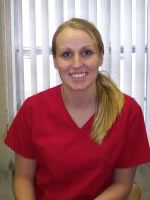 Lisa Houshour
Dental Assistant
Hi my name is Lisa Houshour. I have been a dental assistant for Dr. Walden since June 2012. I graduated from the Dental Assistant program through Vincennes University. I live in Ellettsvile with my 3 daughters.
Amber Summitt
Dental Assistant
Hi my name is Lisa Houshour. I have been a dental assistant for Dr. Walden since 2013.

Summer Hardy
Office Manager